Chambers FinTech Legal 2023 in Japan ranking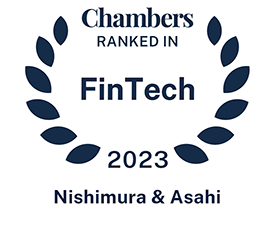 Nishimura & Asahi is pleased to announce that our fintech practice has been highly recognized in the newly published Chambers FinTech Legal 2023. Naoya Ariyoshi and Akihiro Shiba, partners in our firm's fintech group, both received individual recognition for their distinguished knowledge and experience in the practice.
In addition, Nishimura & Asahi's affiliated office, Walalangi & Partners (in association with Nishimura & Asahi), also received recognition in Indonesia.
Leading Firm: Nishimura & Asahi, Walalangi & Partners (in association with Nishimura & Asahi)
Leading Lawyers: Naoya Ariyoshi, Akihiro Shiba