The Legal 500 Asia-Pacific 2022: Outstanding Results for Nishimura & Asahi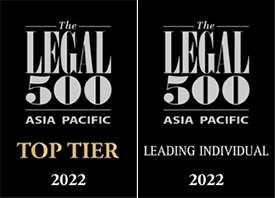 Nishimura & Asahi achieved the largest number of ranked practice areas by a Japanese firm across the Asia-Pacific region, including as the only firm ranked for all practice areas in Japan, as well as for various key practice areas in China, Indonesia, Myanmar, Thailand and Vietnam, in The Legal 500 Asia-Pacific 2022 guide.
In addition to being ranked as a Top Tier Firm in 15 practice areas and Recommended in a further 14 practice areas, our lawyers below are cited in the guide's commentary for their standout contributions to their respective practices.
This year's results highlight our firm's ongoing commitment to consistent and excellent service delivery through challenging times.
In The Legal 500 series, an independent guide to the legal profession, more than 300,000 corporate counsel from across the globe are surveyed each year. The guide is published by LegalEase Ltd., London, UK.
An outline of our results is below.
Japan
Antitrust and Competition
Leading Firm: Tier 1
Hall of Fame: Kozo Kawai
Banking and Finance
Leading Firm: Tier 1
Leading Individual: Katsu Sengoku, Adrian Joyce
Next Generation Partner: Hideo Horikoshi, Takashi Saito
Capital Markets
Leading Firm: Tier 1
Leading Individual: Masaru Ono, Kohei Koikawa
Corporate and M&A
Leading Firm: Tier 1
Hall of Fame: Masaki Hosaka, Katsuyuki Yamaguchi
Leading Individual: Yoshinobu Fujimoto
Next Generation Partner: Yuki Oi
Dispute Resolution
Leading Firm: Tier 1
Hall of Fame: Hiroyuki Tezuka
Leading Individual: Akihiro Hironaka
Next Generation Partner: Yutaro Kawabata, Lars Markert
Fintech
Leading Firm: Tier 2
Leading Individual: Naoya Ariyoshi
Intellectual Property
Leading Firm: Tier 1
Leading Individual: Yoshiyuki Miyashita, Hitomi Iwase
Investment Funds
Leading Firm: Tier 1
Leading Individual: Makoto Igarashi, Kei Ito
Next Generation Partner: Yoshiharu Kawamata
Labor and Employment
Leading Firm: Tier 1
Leading Individual: Yuri Sugano
Next Generation Partner: Jiro Abe
Private Wealth
Leading Firm: Tier 1
Leading Individual: Yoshinobu Fujimoto
Projects and Energy 
Leading Firm: Tier 1
Leading Individual: Tomohiro Sato, Maya Ito, Sadayuki Matsudaira
Next Generation Partner: Norio Maeda, Nathan G. Schmidt
Real Estate and Construction
Leading Firm: Tier 1
Leading Individual: Yoshihiko Kawakami, Shintaro Uno
Rising star: Natalie Yap
Restructuring and Insolvency
Leading Firm: Tier 1
Leading Individual: Kenichi Minami
Next Generation Partner: Hajime Ueno
Risk management and Investigations
Leading Firm: Tier 1
Leading Individual: Hiroshi Kimeda, Kei Umebayashi, Kaku Hirao
Next Generation Partner: Tomoyuki Numata
Shipping
Leading Firm: Tier 2
Tax
Leading Firm: Tier 1
Hall of Fame: Kazuhiro Takei, Yo Ota
Leading Individual: Akihiro Hironaka
Next Generation Partner: Tsuyoshi Ito
TMT
Leading Firm: Tier 1
Leading Individual: Takahiko Date
China
Corporate and M&A
Firms to Watch
Indonesia - Walalangi & Partners in association with Nishimura & Asahi
Antitrust and Competition
Leading Firm: Tier 2
IT, Telecoms, and Fintech (Indonesia)
Firms to Watch
Corporate and M&A
Leading Firm: Tier 5
Real Estate 
Leading Firm: Tier 2
Restructuring and Insolvency
Leading Firm: Tier 2
Myanmar
Corporate and M&A
Leading Firm: Tier 2
Thailand
Corporate and M&A
Leading Firm: Tier 3
Dispute Resolution
Leading Firm: Tier 3
Intellectual Property
Leading Firm: Tier 3
Vietnam
Corporate and M&A 
Leading Firm: Tier 4
Real Estate and Construction
Leading Firm: Tier 3